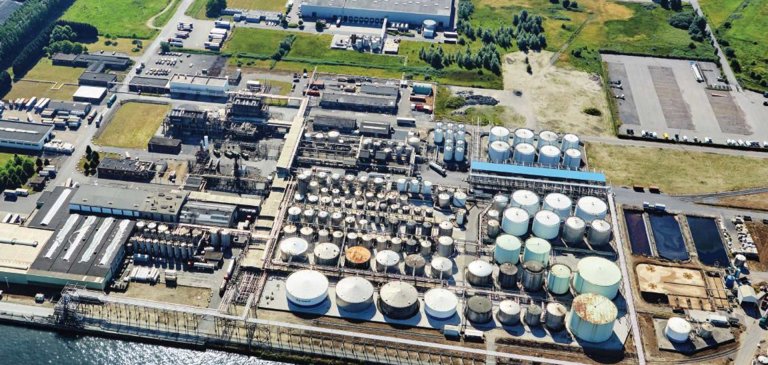 GADOT Belgium BV is a leading European provider of innovative, integrated logistics and value-added services for the chemical industry and related sectors.
GADOT Belgium BV operates a warehouse and tank storage facilities for the storage, handling and logistics of classified and non-classified chemical materials The Ghent terminal operates high-performance chemical manufacturing, mixing and blending facilities as well as filling and packaging lines for liquid materials. In addition, together with Gadot Germany , we create value throughout the entire supply chain of its customers by providing a wide range of international logistics and transportation services.
Based on this sophisticated asset base, as well as a unique global network of partners, GADOT Belgium provides international, integrated supply chain solutions with a focus on Tailormade solutions: designed specifically according to the needs and requirements of its customers.
The group maintains the following corporate values:
Safety and Responsibility: our first priority, for yourself, for the others, for our children. We think safety, responsibility and future
Entrepreneurship: be different, be engaged, be focused. We develop, innovate and will evolve together
Customer-centric: we create value and trust. We deliver excellence. We are more than a partner.
One Team: one Gadot, One Team, One Project. We are together
Enjoy: take pleasure, be proud of your realizations, share your success, We will be stronger
Site facilities Ghent
Tank storage / tolling / Blending
Our multipurpose, state of the art terminal in heart of Europe (North Sea Port – Ghent)
operates a Tank Storage Terminal in the Port of Ghent (Belgium) with a total capacity of >100,000 m³ for the safe storage and handling of classified and non-classified materials
Tolling – Blending – Tank storage for raw materials and finished products – Terminalling
Offering more than 200 tanks in Carbon steel, stainless steel, sizes starting at 35m³ to 6.000m³ each
9 chemical reactors, various blending tanks and kettles
Tailor-made concepts according to customer needs (under NDA)
Accessibility via waterways/road and railways
On side laboratories
Market credibility
Besides a wide range of tailor-made solutions our team has experience in:
Fuel and Diesel Additives for the Petrochemical industry
Lube and Marine oil blending
Screenwash
Coolant blending
Viscosity – index improver production
Specialty Chemicals
Covering a full range of facilities from storage, filling, production, customs management and transport services, we are working for the top 5 players, among others, in the lubricants and additive industry as an extension of their production facilities.
We manage complex tailor-made projects (under NDA) & One-Stop-Shop solutions, and pride in customer centricity & operational excellence.
We specialize in absorbing your complexity.
To further grow our position in Europe we are exploring other (and new emerging) markets which see a fit with our strengths, facilities and knowledge.
Permit and land reserve allow future growth linked to customer projects/demand
Warehousing / Filling and (re)packaging
Gadot Belgium operates high performing filling lines in Ghent . With these sophisticated filling lines the company can fill the whole range of packages , such as :
Small bottles (1-5 Liter): up to 6 KT/Y
Pails 20 – 35 lt: up to 6 KT/Y
200 Liter drum: up to 65 KT/Y
60 Liter drum: up to 45 KT/ Y
000 Liter IBC: up to 30 KT/Y
Transferring of packed liquid to bulk liquid
bulk liquid to bulk liquid(road tankers vs. Rail tank cars vs. ISO tank containers and flexibag containers
Storage, handling, heating of ISO-tank containers order administration & inventory management Warehousing: 4500 m2
Storage and handling of packed chemicals for feedstocks and finished products
Late customization: labeling, re-palletizing, wrapping, strapping, etc.
Safety , quality, environmental and health
Committed to quality, safety & environment